Journey To Our Pioneers' Homes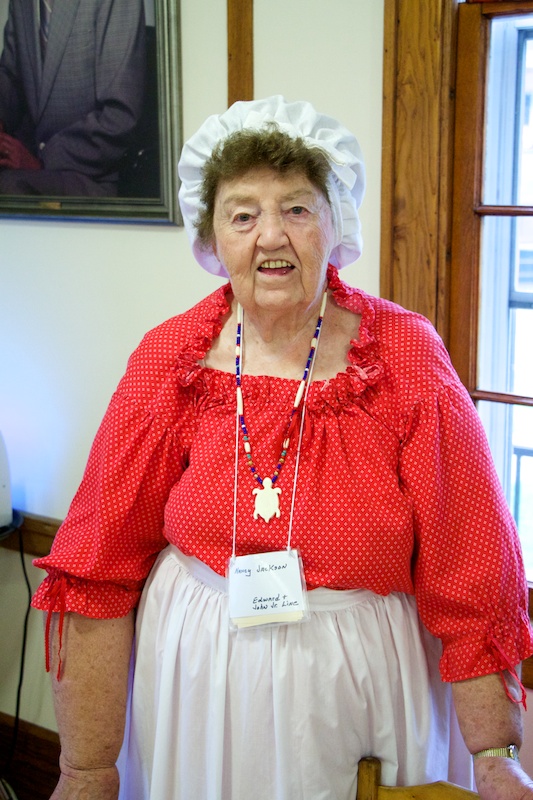 Nancy Jackson greeted us at breakfast in Colonial Williamsburg style clothing.
Nancy got us up early as we had to be at breakfast by 7:30 a.m.!  Again we ate at the Mt. Vernon Dining Hall.  Breakfast was a yummy meal of bacon, scrambled eggs. juice, biscuits with butter and jelly, hot oatmeal, and a variety of cold cereals.
After breakfast we lined up our cars to form three groups of cars in tandem to tour several pioneer homes.  Nancy had assigned people to fill up about a dozen cars so we all didn't have to drive.  Since about 55 people took the house tour, it was important to be organized!  While we waited for the caravans to depart at 9 a.m., we had a chance to meet and chat.
Several pictures of people Dan and Mary Jane chatted with while waiting for car caravan to start.
Copy of Saturday's Tour Booklet compiled by Nancy Jackson.
(1.4 MBytes – may take a while to load. Has been compressed to load faster.)
Pioneer Home 1: Henry Jackson Home
The first home is in Hall, WV (near Buckhannon).  One room of Doug and Ann Bush's house is part of the cabin Henry Jackson built.  We visited the Henry Jackson Cemetery then we drove a short distance to the Bethany Baptist Church in Hall, Barbour County, West Virginia for the opportunity to view pictures of Henry's descendants.  Cold bottled water and Stonewall Jackson Peanut Butter Cookies baked by Rose Powell were served at the church.
Pictures of Henry Jackson Cemetery.
Pictures of Henry Jackson home.
Pictures of Bethany Baptist Church.
 Pioneer Home 2: Governor DDT Farnesworth and Mary Ireland's Home
 The second home is A Governor's Inn Bed and Breakfast.   Governor DDT Farnesworth married second Mary Ireland, granddaughter of John Jackson Jr.  They lived in this Queen Anne style house during the Civil War.     We were treated to a courtyard luncheon at the home followed by a tour.
Pictures of Jackson Brigade gang at A Governor's Inn Bed and Breakfast.
Pioneer Home 3: Jacob Jay Jackson Home
The third house will be the haunted house belonging to Jacob Jay Jackson, son of John Jackson Jr.  Located in McGuire Park near the Weston Walmart.
Pictures of gang at Jacob Jay Jackson home.
Pioneer Home 4: The Law Home
The fourth house was to be the Sunny Pointe Guest House.  However, the Guest House was full of  guests and we were unable to view it.  This is the Law house.   Nancy Sturgess Law married William Dexter Hall, grandson of Col. Edward.  There is a cemetery across from the house where Laws, Brakes and Eleanor Law Jackson, wife of James Madison Jackson, are buried.
6 p.m. Buffet family-style Banquet at the Mt. Vernon Dining Hall at Jackson's Mill.
The banquet speaker will be Dr. Mathew W. Lively who will give a talk about the wounding and death of Stonewall Jackson. He is the author of Calamity at Chancellorsville: The Wounding and Death of Confederate General Stonewall Jackson.
Pictures of Dr. Lively's presentation.
After Dr. Lively's presentation Nancy Jackson presented Dr. Lively a painting for our appreciation of his talk.  Also Nancy gave small tokens of appreciation to members of the Reunion Planning Committee.  Then Jane Hilder, as outgoing President, presented several tokens of appreciation to several jackson Brigade Board members.