Lodging for Jackson Brigade Reunion 2016
Friday August 5 and Saturday August 6, 2016 in Marietta, Ohio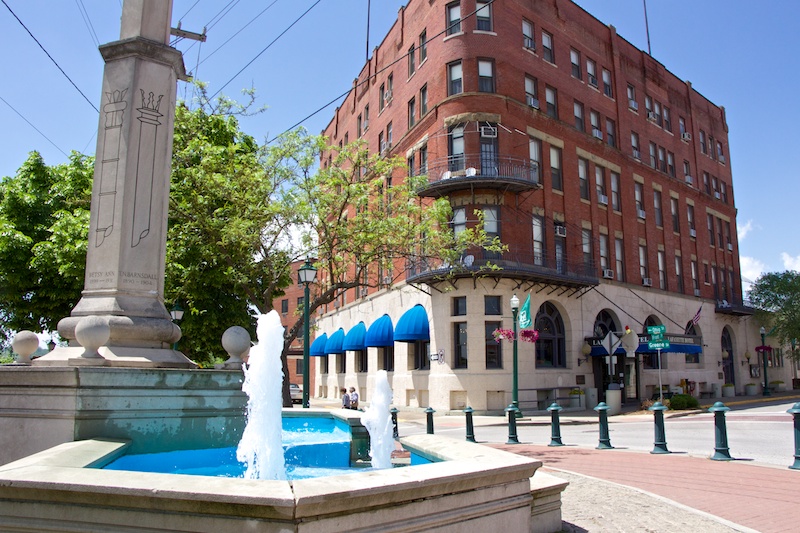 Main Reunion Venue – historic Lafayette Hotel
The main Reunion activities on Friday August 5th will be held at the historic Lafayette Hotel, 101 Front Street, Marietta, Ohio. Therefore, we strongly recommend booking at the Lafayette. The Lafayette is in downtown Marietta on the Ohio River and is an easy walk to shops and other sites. One side faces the Ohio River with rooms that have a neat view of the river. Free parking is available on site.
The cost of the room includes free Traditional Breakfast – your choice of two eggs; bacon, ham, or sausage; hash browns or home fries; and toast or English muffin; coffee or tea. The Lafayette is a historic hotel with many different styles of rooms. Note this is not a modern hotel but we found our room clean and quaint with everything working. Each room has AC, TV, and free WIFI. We found the staff very pleasant.
The historic Lafayette Hotel: 800-331-9336; www.LafayetteHotel.com
On July 5th we released the remaining unused rooms in the block to the public!  Therefore, there may be several rooms available at the regular hotel price.    July 6, 2016 –Dan
We have reserved a block of 29 rooms at the Lafayette Hotel. If you call up and reserve a room, you will receive a discount as shown below.  The rooms in this block are available until July 5, 2016 when the remaining free rooms in the block will be released to the public. When you call, state that you are with the "Jackson Brigade Corporation" group. We have reserved three different types of rooms. Descriptions in quotes are from the Hotel's literature.
Nine Cabins at $73/night
"Our Cabin rooms are quaint and are designed to resemble the cabin rooms on old sternwheelers that carried passengers up the Ohio River. It has 1 Full size bed in it. This room is a smaller room, good for crashing on a business trip or if you are looking to spend a little less. Holds 2 adults."
Mary Jane and I found our Cabin room was a little cramped for two people. – Dan.
Ten Riverview Twins at $83/night
"The Twin room is more suitable for two-business partners or sisters traveling together. The room has 2 Twin size beds in it. The room is average size and is still a good choice if you are trying to save money. Room faces the Ohio River. Holds 2 adults."
Since the Hotel has Twins not facing the river, make sure to request a Twin facing the river. – Dan
Ten Riverview Queens at $93/night
"This is a charming room that offers décor from the Victorian Era. It has 1 queen size bed in the room. This room is a little larger than the Cabin room. Room faces the Ohio River. Holds 2 adults."
Since the Hotel has Queen rooms not facing the river, make sure to request a Queen facing the river. – Dan
Room prices do not include Room Tax (5.75%) and Sales Tax (7.25% in Marietta) for a total of 13% Tax.   Notice that we receive a free room if we fill at least 20 rooms for two nights. Our plan for the extra room is that it will serve as a central location for small meetings and storage of items.
---
Other Lodging – within a short drive (2 or 3 miles) of the Lafayette Hotel
Be aware that hotel prices fluctuate in Marietta, Ohio. They are significantly higher in summer AND on weekends.
Microtel Inn and Suites, I-77 Exit 1, 506 Pike Street, 740-373-7373; microtelinn.com
Best Western Plus, 701 Pike Street, Marietta, 740-374-9660.
Comfort Suites, 202 Cherry Tree Lane, Marietta, 740-376-1600, choicehotels.com/comfort-suites
Quality Inn, I-77 Exit 1, 700 Pike Street, 740-374-8190, 800-537-6858, QualityInnMarietta.com
Fairfield Inn & Suites, 200 Cherry Tree Lane, Marietta, 740-374-3000, mariott.com/pkbfi
Hampton Inn Marietta, 508 Pike Street, Marietta, 740-373-5353, 800-hampton, marietta.HamptonInn.com
Red Roof Inn, 702 Pike Street, Marietta, 740-336-7866, redroof.com
Super 8 Marietta, 46 Acme Street, Marietta, 740-374-8888, 800-800-8000, super8.com
B&Bs
The Cottage on Washington Street, 406 Washington Street, Marietta, 740-374-4439, furbee-retreat-bnb.com
The House on Harmar Hill B&B, 300 Bellevue Street, Marietta, 740-374-5451, bedandbreakfast.com
RV Parks:
Marietta RV Park, 819 Front Street, near Marietta Aquatic Center, 740-374-8584
Ashland RV Park, 1378 Gilman Ave, Marietta, 740-350-8157; AshlandRVPark.com