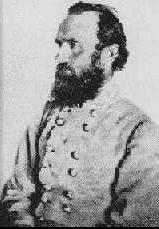 Thomas Jonathan "Stonewall" Jackson
---
The JACKSON Name in Central West Virginia
One of the most predominant names in Central West Virginia is Jackson. This is due, in large part, to our connection to the Civil War hero, Confederate General Thomas Jonathan "Stonewall" Jackson. However, the general's great-grandfather and grandfather were also in the first party of homeseekers to cross the Allegheny Mountains from the South Branch of the Potomac River and become some of the earliest settlers in what is know Upshur, Lewis, and Harrison Counties, West Virginia.
---
Bio on Stonewall Jackson from The Twentieth Century Biographical Dictionary of Notable Americans
The Real Stonewall Jackson The article was published in Feb. 1894 in The Century Magazine. The author of this paper, the late General Daniel H. Hill, C.S.A., was brother-in-law to General Thomas J. Jackson, and commanded a division in Jackson's corps during the Seven Days' fighting, and in the Antietam and Fredericksburg campaigns.
Genealogy of Thomas Jonathan "Stonewall" Jackson. An Online Resource from the VMI Archives
May 10 – On this day in WV history West Virgina State Archives
Stonewall's second wife Mary Anna Morrison Jackson where her Grave is Marked
Visit Jackson's Mill – where Stonewall spent his boyhood years.
A Poem to Stonewall Jackson at the time of his death
Text of Book "STONEWALL JACKSON: A Character Sketch" By H. H. Smith
Image of tombstone for Stonewall Jackson's left arm
Web site on Stonewall Jackson's Amputation of his left arm
Link to the Stonewall Jackson House, Lexington, VA.
Read about the "Stonewall" Jackson Shrine, the plantation office building where General Jackson died.
Link to the Gravestone site where Thomas 'Stonewall' Jackson's Arm is buried.
A recent talk on Jackson, Longstreet and Randolph: Sons of Appalachia in Living History.
Read about archaeological dig at Jackson's Mill in search of Stonewall's boyhood home.
House of Laura Jackson Arnold and Jonathan Arnold in Beverly, WVA
Image of Stonewall's sister, Laura Jackson Arnold. Image of Laura's husband Jonathan Arnold. Image of (From Left to Right:) Jack Pifer, Marie Arnold Pifer, John A. Pifer, Laura Jackson Arnold (Stonewall's sister, in wheelchair) and Elizabeth Gohen Arnold circa 1890. Grace, Marie, Gohen, Beatrice Arnold circa 1890. Gohen Arnold is grandson of Laura and Jonathan Arnold and was President of the WV State Senate in 1921. Arnold Home in Buckhannon, WV Laura Jackson Arnold with nephews John & Jack Pifer and nurse. The Arnold House in 1906. These pictures are courtesy of Michael Keller, a descendant of Laura and Jonathan Arnold.
Read about Stonewall's cousin, George White.
Read about Stonewall's cousin, William Lowther Jackson.
---
Related links on Thomas Jonathan "Stonewall" Jackson